In Memory of Bob Mars

"May God, who has given your loved one
sweet joy and peace at last, renew your
strength, console your heart, and surround
you with His love."
Quotes and letters from those who knew and loved Bob Mars
""I've known Bob for 20-some years, not only as a coach, but we were best friends. Bob's biggest asset was he loved every kid who came through there. He'd give every kid a second chance." -- John Hogg
"He was a pillar of the community." -- Larry Taylor
"He was a really good teacher, almost like a best friend," -- Tia Pingel
"Bob touched so many lives in this town" -- Janice Linehan
"He was my coach. I could always go to him. He always looked after me to make sure I did well in school and wrestling." -- Robert Hazenberg
"If you ever wanted your kid to have a coach, he's the one you'd want it to be. He made it fun. I've never seen kids work so hard to please him." -- John Hogg
He was a real nice guy - a genuine kind of fella. He was a good guy to work with and tried to improve what ever he did. When he came from Ki-Be to Kennewick, I knew he would turn the program around." -- Bob Bodnar
"He was a terrific coach, a terrific person and he was always positive in athletics and academics," -- Garrett Knuston
We had a great time with Bob. He was always there for you as a teacher and coach." -- Travis Knutson
"We had a rivalry, but in the wrestling world, it was a good rivalry. He was a good guy and really into the sport. He did what he could to improve it." -- Dave Brown
"The purpose for this message is to send our hearts and prayers to the family, school, and community of Ki-Be for the loss of such a great person. We are sadden to hear the death of Bob Mars. Our thoughts and blessings are with all of you, escpecially Bob's family and friends." -- Letter received from Ruben Martinez, staff, & team Othello HS
"Dear Ki-Be Schools, coaches, students, faculty and parents: I attended high school with Mr. Rick Linehan, and I was shocked to see of the murder of your coach, teacher and community member. Although I didn't know Mr. Mars, I know the character of most coaches, especially wrestling coaches. I have twin boys in 8th grade, who have been wrestling for 3-4 years (little guys and jr. high). I know the passion and drive of the coaches, both on and off the mat. I can imagine the magnitude of the loss, had this happened in my community. My prayers to all of you and for the Mars' family." -- Letter received from Michele (Prudich) Beckmann Colfax, WA
"When my grandpa died in 2001, Mr. Mars was one of the first people to put his arm around me and say that he was sorry for what had happened. To me, that showed how much he cared." -- Lindsey Bramson
"He was my dads best friend for many many years. He was a great man, coach, friend, dad and husband. He will never be forgotten. Rest In Peace Bob Mars. God pray for his children and watch over them." -- Kristina Rodriguez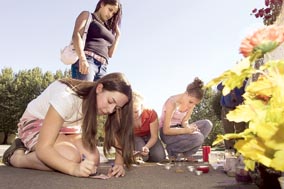 "He taught me all things I know. He was the man I looked up to, a man I deeply admired. He was my hero." -- Brian Pearsall
"He was a huge part of our Ki-Be Bears family. We honor the man he was and the lessons he's left us." -- Rick Linehan
"He always made you feel like you could be better than you were. He believed in every single kid out there." -- Michael Hazenberg
"He was more of a friend than anything. He was a really good guy." -- Roberto Sanchez
"Bob, I love your care for our children. This was so wrong, you had so much more to do" -- Unknown
"I was on the Elks Richland Little League team. Thank you." -- Unknown
"He told me I was the worst pole vaulter he had ever met. Then he took me to the sand pits, where I couldn't get hurt, and he trained me." -- Amanda Molina
"He wanted us all to succeed. You had no choice. He wouldn't let you give up." -- Stacey Razor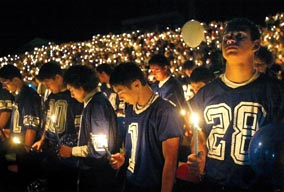 Bob Mars was not just a great coach and teacher, he was a great person. Here is a letter that Bob composed back in 2000 when he was stepping down as the Ki-Be wrestling coach. I think it shows just how much he loved and cared for everyone he came in contact with.
I really had to make the toughest decision in my life about taking this new job because I am leaving part of my family. I am leaving a great program with a bunch of good kids, I know Coach Hill will take great care of them and the program. I never thought the day would come that I would be leaving Ki-Be wrestling, the last 14 years have been some of the greatest moments in my lifetime. I have been proud of everyone of our kids that have come through the program and the ones that are still there. It has been a great honor to be part of the first league title, seven individual state champions and numerous medalists, place in the top ten at state for six straight years, winnng our own tournament, and having the oppurtunity to meet and coach every wrestler that came through our program. I going to miss our great bus trips, practices, matches with Connell and other teams in the league. I want to thank everyone that helped make the Ki-Be Wrestling family what it is today; the wrestlers, parents, booster club, managers, Stats keepers, cheerleaders, fans, administration and my two great assistant coaches. I will miss all of you and wish everyone the best of luck in the coming years. I hope to see all of you at the dome. Good Luck and Best Wishes Coach Hill !! -- Bob Mars